Tuesday, September 2nd, 2008
---
2:40 pm
Sorry for the large images, but I live where the violent "protest" happened in Saint Paul yesterday.

These were taken either on the street where I live or from my balcony.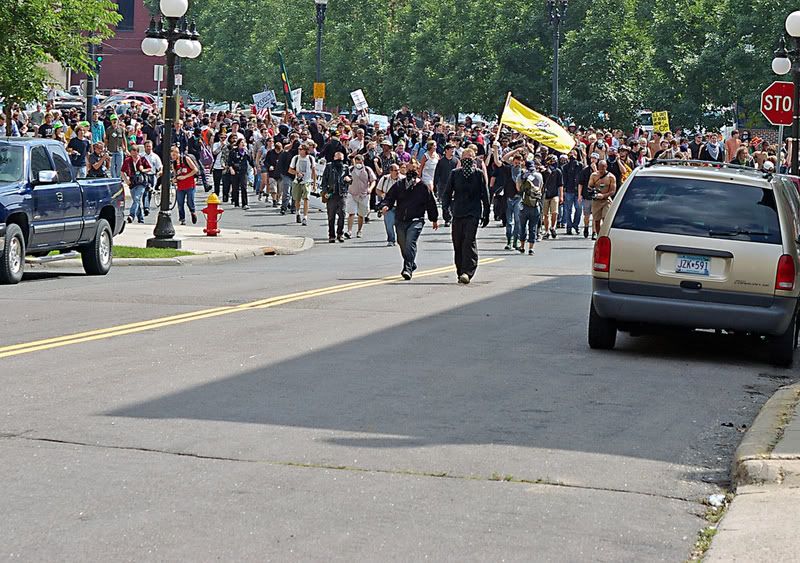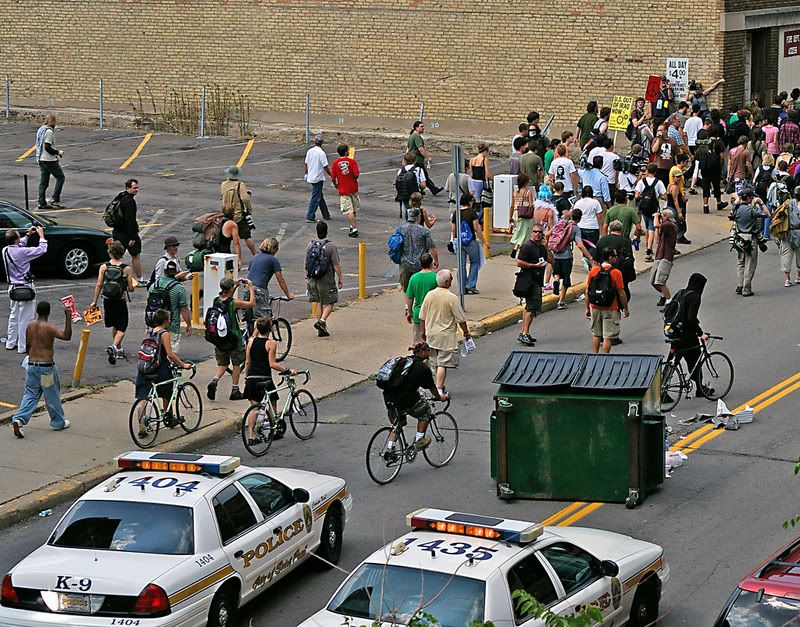 And yes, it was really fucking scary. It got worse but I wasn't able to photograph everything.
Thursday, June 12th, 2008
---
2:15 pm
Monday, June 2nd, 2008
---
9:40 pm
- Never buy an Apple, please!
When my shitty Apply computer crashes, I often send Apple this message -


Please describe the circumstances leading to the crash and any other relevant information:

You know what? APPLE SUCKS. SAFARI SUCKS. I want my money back after buying this shitty computer. FUUUUUUCCCCKKK you.

My brother in law works for Microsoft (has for 15 years) and I should have listened to him when he was trying to talk me out of buying this PIECE OF SHIT computer, but nooo, I wanted something that "looked" cool.

Could you send me a new computer, to at least make me hate Apple any less?

FUCK YOU FUCK YOU FUUUCKK YOU.

I am going to smash the FUCK out of this computer once I get a new one.

ROT IN HELL APPLE.

I can't believe you don't care about ripping off people (esp. young kids who care more about being cool) and people that care about having a computer that is easy to operate.

FUUUUUCKKK YOOOU.

I have been receiving these "crash" messages for FOUR FUCKING YEARS and I now have been fed the FUCK UP with it.

I am telling ALL of my friends and family to never buy an Apple again and they will listen.


Once again, FUCK YOU for making my life harder!!!!
8:05 am
- Tatum, why!?
Tuesday, May 13th, 2008
---
12:39 pm
For the first time this year, I hear a lawn mower!

:D
Thursday, May 8th, 2008
---
12:08 pm
- Plants around my house
10:57 am
Kitchenaid is coming out with glass bowls for their stand mixers! Not only are they more attractive than the stainless steel bowl, it features a pouring spout, measure marks, and it is microwave safe. I don't have a microwave, but I see how this could come in handy!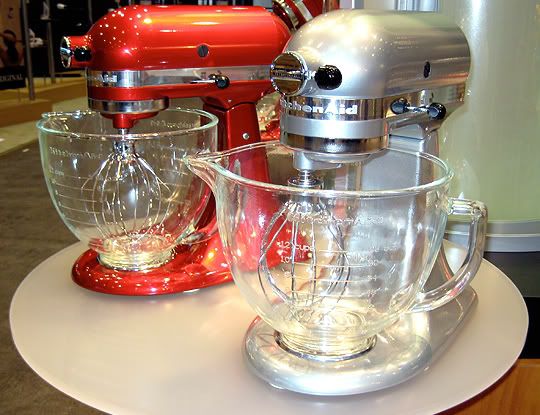 Anyway, nothing exciting has happened around here - I am still job hunting. I still don't regret quitting my last job...well, yet. I have enough money aside to get me through the next month or so.
Tuesday, April 15th, 2008
---
7:46 pm
- Unemployed
Hello in livejournal land. Long time, no talk.

I quit my hellish corporate job today (Securian/Minnesota Life). I will probably be spending a lot of time on here!

After two years of being surrounded by fat bitches walking around without shoes on, people who have the worst grammar, and not being valued because I have a college degree, I said fuck it! I am out of here! So long suckers!

I miss the library. I just hope something opens up soon. Helpa me!

:/
Wednesday, September 26th, 2007
---
6:52 pm
My wedding dress!




30 days till now...oh boy.
Friday, July 13th, 2007
---
9:19 pm
One of my terrariums grew a mushroom!




My question is, what is that weird brown/orange film by the root? Is that some kind of gas it put off??!?

It died shortly after this photo was taken. : (

Now I want nothing but a mushroom terrarium.
Thursday, May 31st, 2007
---
7:52 pm
The Bánh mì is my new favorite sandwich. I picked up one and Shuang Hur Supermarket on University a few weeks ago. It was quite spicy because it was loaded with jalapenos!

Via Wikipedia : Bánh mì in English and sometimes also referred to as a "Vietnamese hoagie", is a Vietnamese submarine sandwich, made with a French-inspired baguette. It is made up of thinly sliced, pickled carrots, daikon, onions, cilantro, choice of barbecued pork, paté, chicken and other meats; there also exist vegetarian versions of this item with tofu taking the place of meat. The contrasting flavors and textures of the sandwich — as well as its relatively low cost — make it a popular dish. Generally, It contains much less meat than most American style sandwiches.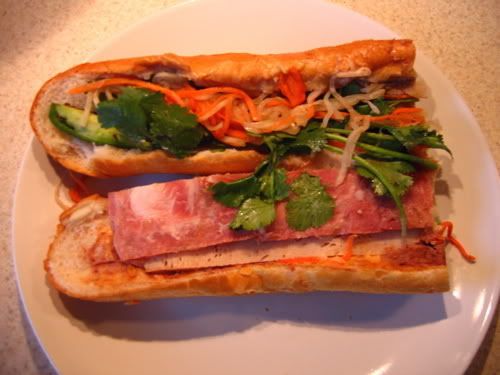 Friday, May 25th, 2007
---
7:03 pm
I am getting married on October 26.
Sunday, August 27th, 2006
---
9:21 pm
Well, my boyfriend has a job interview tomorrow - at the same place where I work! It's a huge company so I'd never run into him, so that's good. I find it unsettling that here I am, with a BA in Art History and my boyfriend with a BA in Architecture working for a huge financial corporation. Two liberal art graduates lost in a sea of mindless paperwork & suits. Ah well...the team just lost two more.

In other news - my mother is going to bring down this sweet headboard for us next weekend! It needs to be cleaned up, but it's so Danish modern...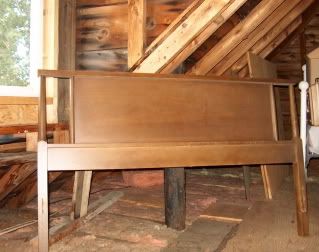 I really need to post a photo of our new Paul McCobb desk. It's dreamy. Our new goal is to invest in two to three (nice) pieces of furniture a year - in the meantime we'll have to sit in our Slumberland couch surrounded by our IKEA junk. Le sigh.
Saturday, July 29th, 2006
---
6:33 pm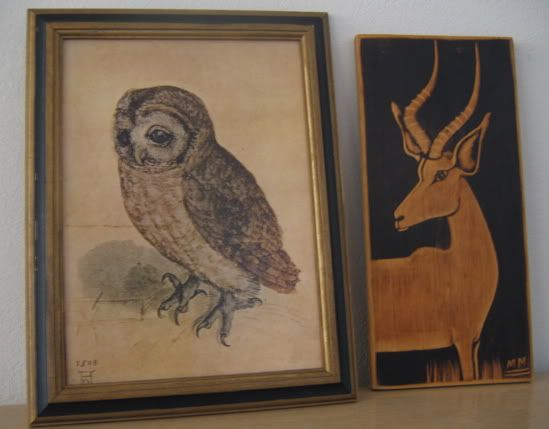 Goodwill finds. 07.29.06
Saturday, July 8th, 2006
---
9:21 pm
Oh, a night filled with free shrimp brochette & Staropramen is wonderrrful.

We also watched Seven Deaths in the Cat's Eye with Jane Birkin. The movie sucked, but it was worth it to see Serge Gainsbourg dubbed!

Today has been filled with bermuda shorts (as much as I hate shorts, it is so fucking hot here), Trader Joe's Hofbrau Back, a walk to the library, and varied conversations about nothing at all. I just know I am ready for Fall already.

Isn't Forever 21 kind of a cheap version of Anthropologie?
9:06 am
E-Bay. Omigod.

Just look at these terrariums.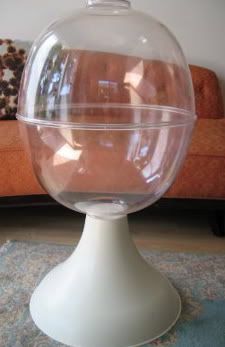 I neeeed theeese.
Thursday, June 29th, 2006
---
6:14 pm
Seems like the other day
My baby went away
He went away 'cross the sea
It's been two years or so
Since I saw my baby go
And then this letter came for me
It said that we were through
He found somebody new
Oh, let me think, let me think, what can I do?
Oh no, oh no, oh no no no no no